Swim Timing time registration

When it comes to timekeeping in official sports competitions, only the best is good enough. And the best in this case comes from Swiss company Swiss Timing, which specialises in timekeeping equipment, data analysis and results displays for all kinds of sports. Together with sister company OMEGA, they have been partners with the Olympic Games since 1932, where they are responsible for timekeeping for both summer and winter sports.
Varioplay is the exclusive distributor of Swiss Timing in the Netherlands and Belgium. You will find everything you need for accurate and qualitative timekeeping at our shop. Whether it is a cycling track, basketball court or swimming pool, Swiss Timing is uniquely qualified to provide timekeeping services for your organisation. In the following overview, we deal with the equipment for timekeeping at official competitions in your swimming pool;

Quantum Primary from Swiss Timing
The Quantum Primary registers all time measurements of for instance touchpads or starting blocks with RBD. All data is collected in this system and transferred via a USB connection to the computer, where it is then processed.
Omega Touch pads
The Omega Touch Pads make it easy and indisputable to determine the winner of official swimming competitions. The touchpads are attached to the pool wall in each lane and register every touch. As soon as a swimmer touches the touchpad, this is registered and sent to the timekeeping system. The touchpads are available individually or as a set and in the following formats: 240×90 FINA, 227×90, 190×90, 200×60 and 150×60.
Swiss Timing Start Time
Swiss Timing's starting system is called StartTime and consists of an acoustic starting device and a sound box. As soon as the button is pressed, a sound and a flash are heard. At the same time, the start signal is transmitted to the timekeeping system. A set of mobile cabling units to connect to contacts for start block, touchpad and push buttons. The cabling units are available in a set for 6, 8 and 10 lanes. Depending on the installation, it is possible to choose between internal or mobile speakers. The internal speakers can be placed in the starting block. The speakers are also available in different sets with a 3 or 6 meter cable.
The backstroke start support by Swiss Timing is also called the OBL2 Pro. This device is used at the highest level for competitions, is adjustable in 5 positions with a safety lock and is fully compliant with FINA requirements. The support is suitable for OBS 11, OSB 12, and OSB 14 starting blocks. Of course the starting blocks with RBD (Relay Break Detection) to measure the reaction speed cannot be missing from the timing equipment either.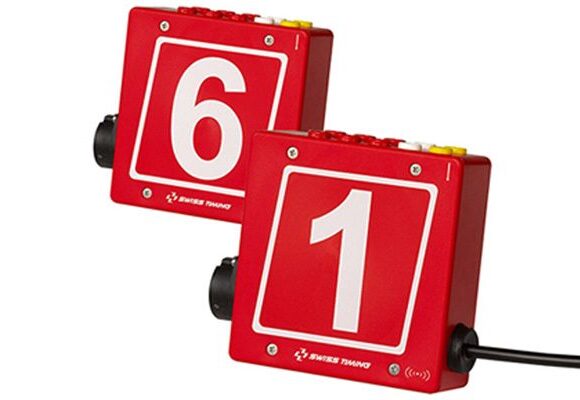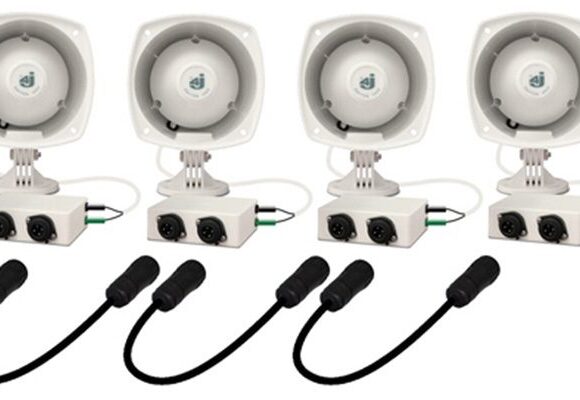 Omega Calypso products from Swiss Timing
The OMEGA Calypso products consist of numeric and alphanumeric scoreboards with advanced LED technology, suitable for both indoor and outdoor use. The Omega Calypso scoreboard features large digits and a light sensor that adjusts to the brightness of the ambient light. This ensures the best possible readability and enhances the crystal-clear display at distances of up to 150 m.
The compact grey aluminium housing has an acrylic finish, which guarantees the best protection against atmospheric conditions and has an integrated horn. The scoreboard is designed to be installed on a wall and all Inter-module wiring is hidden from view. Cleaning and maintenance are made easy with access to the front of the scoreboard. Calypso scoreboards are manufactured from the highest quality materials, and all components are thoroughly tested before assembly.
Our range for OMEGA Calypso numeric white scoreboards:
Scoreboard for 8 numbers / 1 line (optional with Bluetooth)
Scoreboard for 8 digits / 4 lines (optional with Bluetooth)
8-digit / 6-line scoreboard (Bluetooth optional)
8-digit scoreboard / 8 lines (Bluetooth optional)
8-digit / 10-line scoreboard (Bluetooth optional)
OMEGA's Calypso shot clocks are powered by an external power supply module, equipped with a powerful horn. Connected and connected to a controller as the main timing device, the shot clock follows the start/stop commands of the referee during Water Polo.
Calypso shot clocks for water polo
Once the 30-second shot clock reaches zero, an acoustic signal is emitted by the module. The angular, broad-based design makes the display extremely stable and, with a height of 24 cm of the LED digits, it ensures excellent visibility for the players and spectators.
OMEGA Calypso set of 2 or a set of 4 clocks
MONTREAL shot clocks with match clock
COYOTE horn
Cable BA2pM – BA2pF (0.5mm²) – 50m on a reel
SOFTWARE TIME REGISTRATION
From software to scoreboard, and from starting block to touchpad. Varioplay supplies the entire package. Good time registration is indispensable in every branch of top sport. Therefore, if you are looking for the best solution, let our experts advise you. Together with you, we will draw up a plan and give you customized advice.
Need more information about this or other products. Please visit our Variopool website.